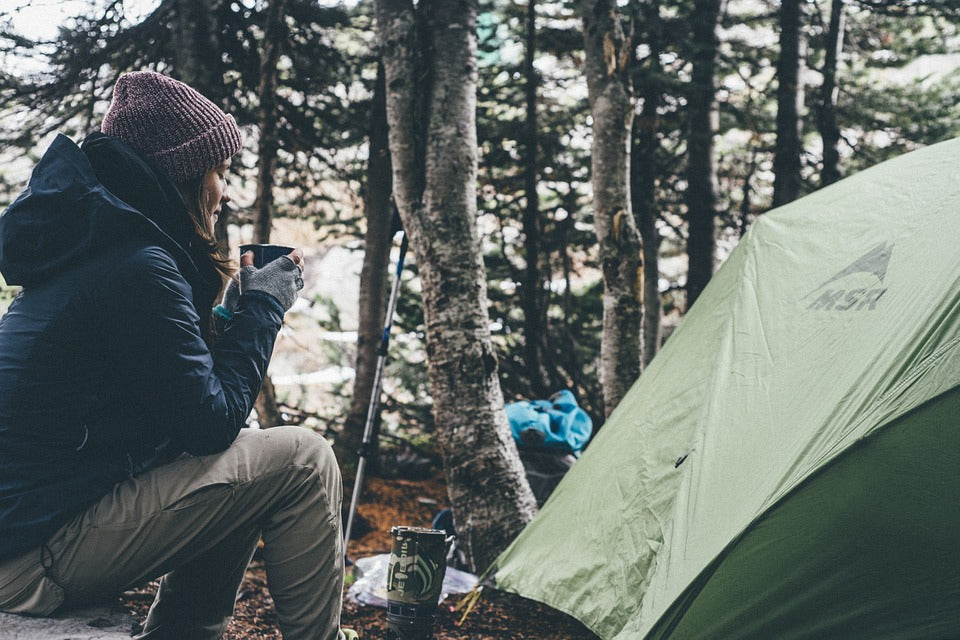 Summertime is fun, but as autumn approaches, many of us pack up our camping gear, put away our SUPs and kayaks, and exchange hiking boots for school gear.  
Why?  Yeah, the days are shorter.  True, the nights are colder.  But there are definite advantages to getting outdoors in the fall and as long as you keep a few simple rules in mind, you may find that camping in this often disregarded season quickly becomes your favorite activity.
The Advantages:
1.  Discounted Rates
While some campgrounds shut down after Labor Day, others remain open but at reduced, off-season rates.  Who doesn't love saving a bit of cash?
2.  Less Crowded
For many of us, fall means school has started, which means family vacations aren't possible (or are far more difficult).  If you can manage it, you'll find that your favorite campgrounds, lakes, and trails are less crowded allowing you more freedom to enjoy all that the wilderness has to offer.
3.  A New Perspective
Autumn is a time of change, a time when the world seems to curl up upon itself, breath a sigh of relief, and prepare for winter's cold embrace.  What does this mean for you?  That familiar stomping ground you visited all summer is now transformed into a new world filled with stunning vistas, wildlife, and opportunities to explore areas that you may have missed in summer.
Now that we've convinced you of why you should explore in autumn, we'd like to offer a few tips on how to do it safely.  This list is by no means exhaustive, and what you need will vary wildly depending on who is going, where you're going, and how long you plan to be gone, but it should give you a solid start to your autumn adventure.
Fall Camping Guide:
1.  Watch the Weather
As with any outdoor adventure, the weather plays an important role.  Make sure to watch weather trends for the area you plan to explore and pack accordingly.  It's never fun to be caught out in a rainstorm without proper gear or to wake up and crawl out of your tent only to discover that the first snow of the year fell during the night.
2.  Cold-Weather Sleeping Bag/Sleeping Pad
These are a must for any fall/winter/early spring camping trip.  Always bring a sleeping bag rated for lower than you think you'll need to ensure you never spend a night shivering instead of sleeping.  Though you may have braved the rough terrain in summer and slept without a sleeping pad during those warmer months, it's important that you bring one for any fall outings.  That insulating layer will help protect your body from the chill of the ground as temperatures drop.
3.  Invest in a Good Tent
Consider buying a 3-season tent with a full rain fly to protect against the damper, rainier autumn weather.  It's always a good idea to put down a tarp beneath your tent to help prevent moisture from seeping in and it can't hurt to bring an extra one to put over your tent for those particularly rainy areas.
4.  Bring a Variety of Clothes
Autumn weather is as varied as it is unpredictable.  Nights are cold, days can be hot, rain is always a possibility, and even snow could threatened your adventure.  Bring things that can be layered for easy removal throughout the day and never forget to bring rain gear with you to help protect against a sudden rain shower.
5.  Check for Burn Bans
Although the temperatures are dropping, some areas may still be affected by burn bans, which means that you won't be able to rely on a fire to help keep you warm (or cook, or keep predators away).  Check before you go to make sure you're properly prepared with either a plan to get firewood or suitable alternative means of heating/cooking.
6.  Watch for Wildlife
The autumn provides unique opportunities to see wildlife as they prepare for winter, but it also brings with it wildlife safety concerns (yours and theirs).  Keep in mind that some animals are more aggressive in the fall and should be avoided at all costs (bears and bees come to mind first).  Other animals experience their mating season in fall and may behave unpredictably or even dangerously.  Please give the animals extra space for your safety and theirs.  If you want to take pictures, use a telephoto lens and always be aware of your surroundings.
7.  Make a Plan and Survival Kit
You should always leave a plan of your trip with someone when venturing off, especially on your own, but it is especially important to do so as the weather gets colder.  If you get lost, you may not be able to wait for days before someone comes to save you, which is why it is equally important to bring a survival kit with you whenever you venture away from camp.  In it, pack everything you will need to survive in case the weather turns on you, you get lost, etc.
8.  Know When to Abandon Ship
Not literally, of course, but don't be afraid to admit that you aren't prepared and have a plan B - in this case, extra money to pay for a hotel for the night.  When the weather turns foul or an unexpected storm blows in, there's no shame in finding alternatives to camping.  Better that than risk your safety or health by toughing it out when you're not prepared.
Your outdoor adventures don't have to end just because summer is over.  With proper planning and preparation, you can explore a new world - one of rich color, vibrant life, and untold beauty.