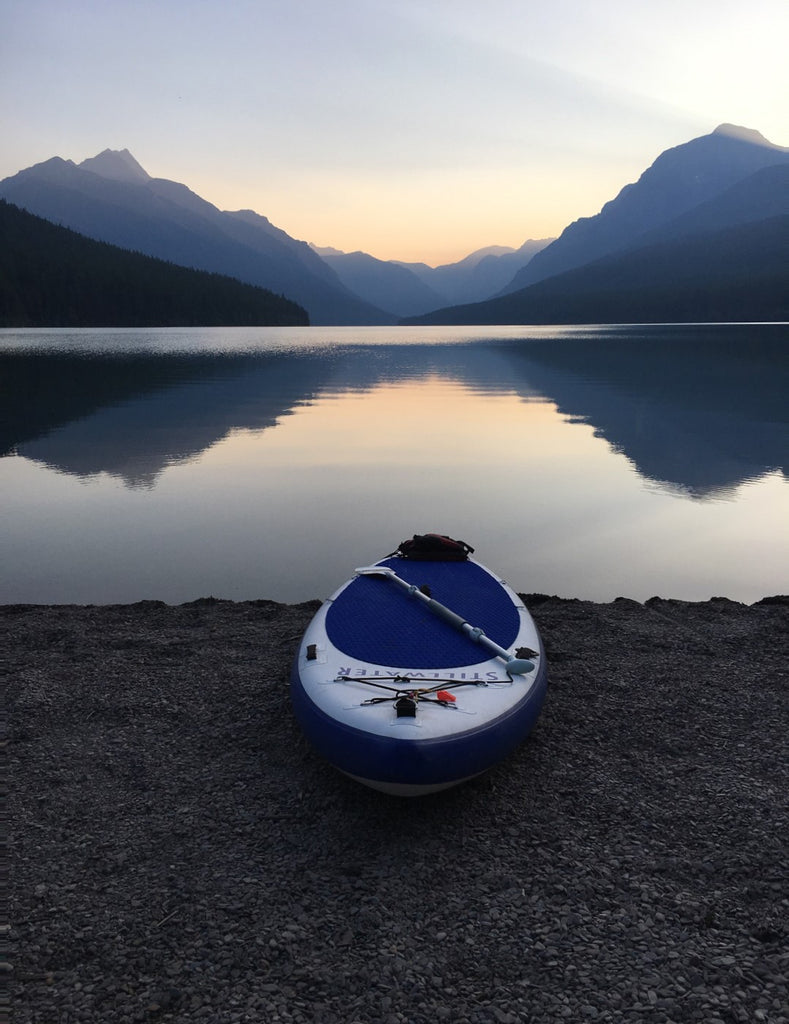 Today, we would like to share a post provided to us by our friend, Timothy Beggs, who recently went on a trip to Glacier National Park.  We love to hear about adventures near and far and are so happy that our Stillwater SUPs added a new level of fun for Tim, his friends, and his family.
As someone who is new to paddle boarding, I was unsure of what to expect when I tried this very hyped-up sensational rave, and I must say I was not disappointed. I am also very into camping and mountaineering, so when I went to Glacier National Park this year to do a camping and climbing trip, I decided to bring paddle boards as well. And boy, am I glad I did.
After a long day of hiking and climbing in the mountains, we would go for a one-two hour paddle on Bowman Lake where our main camp site was and I even got up early one morning to watch the sunrise from the water.
As much as I love fast-paced high-risk activities, paddle boarding brought such a fun and enjoyable addition to our camping trip this year.  Whether we were hiking Logan's Pass or climbing Mt Siyeh, my brothers would always say, "When we get back to camp, we need to do some more paddle boarding," to which I always agreed.
While Fun Unlimited offers some beautiful locations to rent from in Post Falls and Spokane, I always like getting a little farther away. Thankfully, they let me take the paddle boards off-site for the trip. So 6 hours away in Glacier National Park, Montana, I was able to enjoy the most peaceful and quiet sunrise on a remote lake.
Thanks Fun Unlimited and Stillwater Outdoors for the great time in Montana and for the many more trips on the water to come!
Thanks Tim!  We're so glad you had a safe trip and hope next summer brings many more adventures on water and on land.
All pictures were provided, and used with permission, by Timothy Beggs.  The article is presented, as given, with the exception of a few minor grammar corrections.