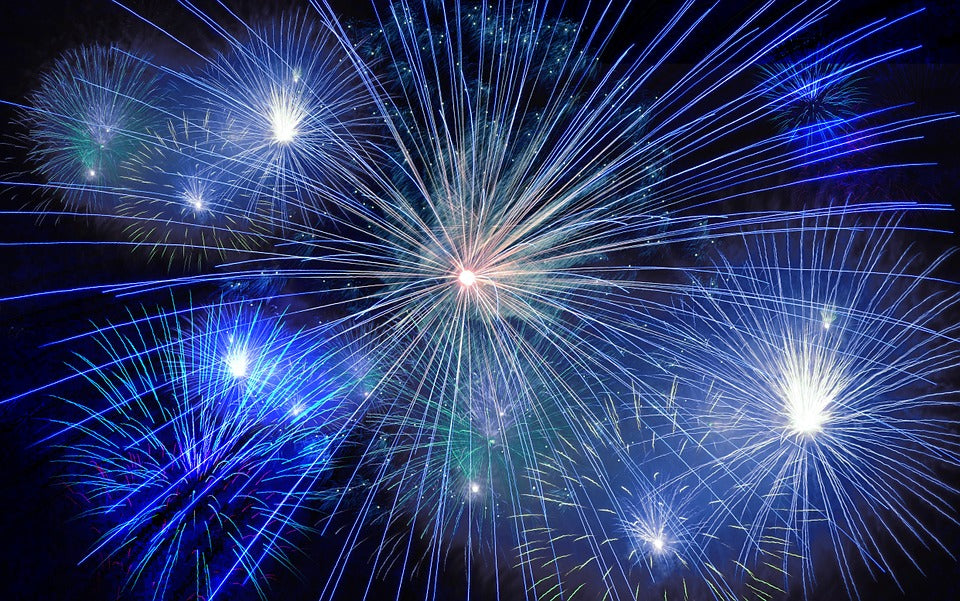 How many of us start the new year with a shiny list of resolutions?  And how many of those resolutions fall by the wayside one month into the year?  Two?  Six?  How many (and I'm certainly guilty of this) make a list only to never actually start taking steps toward any of the goals?
And how many of us feel guilty later when we remember our lists, our forgotten goals, and realize we haven't made any progress with them at all?
Well, this year Stillwater Outdoors wants to help by offering some of our favorite (achievable) goals that will help fill your life with memories to last a lifetime.  Hopefully, these will help get your year off to a great start.
1.  Visit a family member or friend ... when it's not a holiday.
You know that random weekend in April when you've got nothing planned?  The rain means no outdoor fun, the temperatures are just warm enough that you don't want to stay inside, and the kids are eager for the end of the school year?  Why not visit a family member or friend?  Whether it's a friend, sibling, uncle, grandparent, or honorary cousin, make it a point to stop in and visit - not because the holidays demand it, but because you want to spend time with them.
2.  Write a letter.
In the days of email and wi-fi and cell phones that are basically hand-sized computers, communication is easier than ever ... but that doesn't mean that writing letters should be completely forgotten.  There's something special about receiving something other than junk mail in the mailbox, especially when that letter came from family or friends.  Make someone's day, let them know you're thinking about them, and take the time to write a letter.  Even better - make it a family affair and have the kids put their own special message inside.
3.  Visit a local park.
It doesn't have to be a national park or a state park - a city part will certainly do.  These areas are designated as public use areas and are meant to be enjoyed.  The next time you find yourself following your usual morning route during your run, why not detour to a park?  Or that lunch you planned to enjoy with a friend?  Why not plan a picnic at a park instead?  Bring the kids (and pets if allowed) and make a day of it.  A lot of parks offer playground equipment and some (in our area anyway) even have splash pads and other ways to cool off during the hot summer months.
4.  Try something new for dinner.
This is one of my favorites.  I enjoy food - the tastes, the textures, the process of cooking.  Cleaning it all afterward ... well, that's what dishwashers are for, right?  Anyway, why not stray from your normal menu by trying to make something new?  You'd be surprised by how many exotic dishes use surprisingly typical ingredients.  For Christmas this year, my family tried a Mediterranean menu that included dishes from Italy, Israel, Morocco, and Greece.  If you don't want to try a full menu, start with just one dish.  Maybe something you've heard of and always wanted to try, maybe an old family recipe that you never got around to making, or perhaps something picked out of a recipe book at random.  No matter how you choose the recipe, it will no doubt be an enjoyable evening (even if it doesn't turn out - sometimes mistakes make the best memories).
5.  Along those same lines, try a new activity.
Routine is easy.  Routine is comfortable.  There is nothing wrong with routine ... but there is also nothing wrong with mixing things up every so often.  We're not expecting a new activity every week.  For some of us, once a month is setting the bar high.  So why not pick one activity - something you've always wanted to try - and do it one time this year to start.  Just once.  One hour SUPing.  One afternoon learning to knit.  One day learning to water ski.  One night star gazing with a friend.  Go solo, join a friend, or get the whole family involved.  However you do it, we're confident that one-time will quickly become all-the-time when you find something you enjoy.
6.  Say no to technology.
Cold turkey.  That's right - no easing into it, no trial period.  Put the phone in some forgotten closet and back away.  And shut the door behind you when you leave, just in case.  It's amazing how much time is spent staring at our phones.  Some estimates put the average use at over 70 hours a month.  Seventy!  Isn't that ridiculous?  Now that you've locked your phone in the basement closet, think of all the ways that you can use those 70 hours.  You could apply them to some of our earlier suggestions, read a book (or several), play with your kids, have date nights with your loved one - the possibilities really are endless.
If you can't do it long term, consider giving it up for just a day.  Maybe one day a month and reserve that as a family day.  Or one day a week so you can catch up on all of those other things you've been meaning to do.  Not only is it better for your health (mentally and physically), but it's a great way to lead by example and help others reconnect with those around them instead of seeing the world pass by through the screen of a phone.
7.  Smile more.
Okay, so we all have reasons why we may not be able to complete our other goals.  Time, money, that old high school football injury.  But in this case, there really is no excuse.  This is a goal that we can all get behind, one we can all strive to complete.  It takes no time, minimal effort, and yet the results are truly astounding.  A simple smile can turn your day around by releasing endorphins, lowering blood pressure, and relieving stress.  The best thing?  It's catching.  When you see someone smile, you're more inclined to smile, making it the fastest, easiest way to spread a little happiness around the world.  So the next time you find yourself walking through a store, down the sidewalk, or sitting on the bus ... smile.  You may be surprised by the result.
Well, that's it.  Seven achievable goals that we wanted to share as 2018 comes to an end.  We hope our list inspires you to shake things up a bit in your life.  You may be surprised - that one time event could become your new go-to family activity.
Whatever your goals for 2019, Stillwater Outdoors wants to wish all of you a happy and healthy new year.