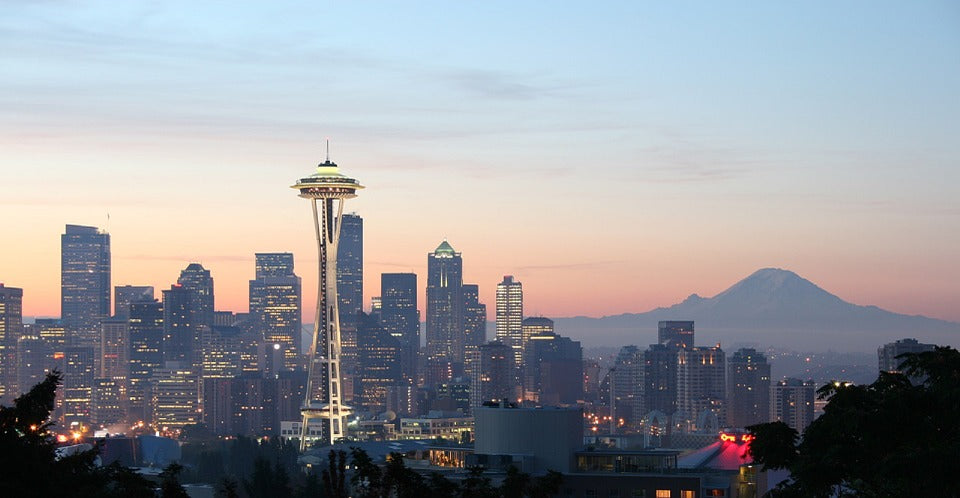 The United States is incredibly diverse and offers plenty of opportunities to enjoy the outdoors whether you're looking for the perfect hiking trail, a peaceful lake for canoeing, or maybe trails for horseback riding.  With so many places to choose from, it can be difficult to find that perfect destination for your next adventure.
Here are 10 reasons why Washington should be your next vacation destination.
1.  San Juan Island
This National Historic Park has something for everyone.  Hiking trails spread through forests, up mountains, and alone pristine beaches.  There are opportunities to brush up on your history during a re-enactment at English Camp.  Enjoy wildlife?  Watch whales, seals, porpoises, foxes, deer, and make sure to stop by American Camp, one of the best locations for bird watching around the world.  Both camps have boat launches so be sure to bring your canoe, kayak, or SUP.
2.  Olympic National Park
A gem of the state, Olympic National Park offers a wide range of activities to enjoy year-round.  There are 16 campgrounds for those who plan to stay a while, and we highly recommend that you do.  The park covers over 920,000 acres which amounts to over 1,400 square miles.  Complete a day hike on the 600+ miles of trail or enjoy the 3,000+ miles of rivers and streams.  Curious about the natives of the area?  Check out over 650 archaeological sites and the half million museum objects.
3.  North Cascades National Park
Personally, I love viewing the mountains but have no experience actually climbing them.  The North Cascades Highway offers the perfect opportunity to enjoy the mountains without experience - either by car or by bicycle.  Stop by the Washington Pass Overlook for spectacular views, continue down to the Diablo Lake Overlook to see the aqua blue waters, and then stop by the North Cascades Institute or the North Cascades Environmental Learning Center for educational programs and tours.  For those looking for a little more adventure, consider boat-in camping on Ross Lake.
4.  Lewis and Clark National Park
Looking for an interactive experience?  The Lewis and Clark National Park is a great place to learn about local history by seeing it in action.  Summer and Winter programs showcase flintlock muzzle loaders (fired by rangers) as well as historical demonstrations.  Participate in guided hiking tours along the Netul River or sign up for a guided paddle tour on the Lewis and Clark River.
5.  Mount Rainier National Park
If hiking is your thing, consider making this your destination.  Mount Rainier National Park has over forty hiking trails and offers permitted backcountry camping as well.  Want a challenge?  Consider completing part or all of the Pacific Crest Trail which weaves in and out of the park and spans 2,650 miles from the Canadian border down to southern California.  If you are thinking of completing the entire trail, plan for 5 months of intense hiking (although some elite hikers have completed it in as little as 2 months).
6.  Lake Roosevelt National Park
Enjoy spending time on the water?  Stop by Lake Roosevelt National Park and explore 130 miles of lake formed by the Grand Coulee Dam.  There are 22 public boat launches available, but remember to call ahead.  Because of the nature of the man-made lake, water levels change throughout the year and certain launches may be closed.  Want a truly unique experience?  Consider renting a houseboat from either Lake Roosevelt Adventures or Lake Roosevelt Vacations Inc.
7.  Colville National Forest
Although not as well-known as some of the other national forests on our list, we consider Colville National Forest to be a perfect choice for those looking to get outdoors.  It spans 1.1 million acres that cover three mountain ranges and three river valleys.  There are nearly 500 miles of hiking trails, horse trails, biking trails, and OHV trails.  While exploring, be on the look out for grizzlies, bald eagles, cougars, black bears, and the last remaining caribou herd in the contiguous United States.  There are plenty of campgrounds to choose from or go off-grid with backcountry camping.  And for those who love winter, 49 Degrees North is an excellent place to snowboard, ski, and snowshoe.
8.  Spokane River Centennial Trail
This nearly 60 mile stretch of paved trail is great for pedestrians and bikers alike.  It stretches from Nine Mile Falls in Washington all the way to Coeur d'Alene in Idaho and presents beautiful views of the Spokane River.  Completing this trail will take you through forests as well as metropolitan areas, giving you a unique experience.  While passing through Spokane, consider stopping at Riverfront Park to enjoy views of the Spokane Falls from the Skyride, cruise around the newly added skate ribbon, or take a ride on one of the last hand-carved, wooden carrousels around, the Looff Carrousel.
9.  Lake Chelan
This lake has so much to offer including the 139-acre Lake Chelan State Park on the southern shore with its 6,000 feet of shoreline and, on the northern shore, the remote village of Stehekin which is only accessible by boat, plane, or foot.  The lake itself is over 50 miles long and and is over 1,400 feet deep.  Here, you can enjoy boating, camping, fishing, hiking, mountain climbing, and more.  Spend the day at a family water park or consider visiting one of the many wineries and enjoy a glass of wine while viewing the stunning mountain vistas.
10.  Sun Lakes-Dry Falls State Park
Formed during the Ice Age, the Dry Falls (a former waterfall 4 times the size of Niagra Falls) stretch for 3.5 miles and stand over 400 feet tall.  This is one of many sites along the National Ice Age Floods Geologic Trail.  Deep Lake, visible from the falls, is a perfect place for paddling or kayaking.  Hikers can enjoy trails that wind over sage-brush covered hills to the table-top cliffs.  This park perfectly showcases the diversity that Washington has to offer.
Hopefully, this list will prove that Washington is more than just coffee, rain, and technology.  The incredibly diverse landscape provides something for everyone whether you prefer snow-covered mountain slopes, aqua-blue waters, or shifting sand dunes.